Dermalogica Body Treatment Wandsworth
Dermalogica Body Treatment combine the powers of touch and heat to deliver skin health and the treatment experience you crave!

Eleven new Dermalogica body treatments that include body exfoliation, wraps, targeted treatments for a specific area of the body, and our relaxing Thermal Stamp Therapy, which dates back to 14th century Thai therapy.

Much in the way a Dermalogica face treatment is customised with Face Mapping®, your Thermal Body Treatment will begin with Body Mapping®, the zone-by-zone analysis of your body skin. Only through Body Mapping can you receive a treatment that will deliver targeted results. And, Body Mapping will help outline a proper Body Therapy home care regimen to help you maintain the results of your body treatment!

Dermalogica body treatment and the power of heat
There is no doubt that warmth plays a vital role in keeping us comfortable. But heat also helps relax muscles, induce sweating (to assist in toxin elimination), relieve pain and calm the psyche.

Through the use of our new Thermal Body Treatment professional products that feel amazing on your skin, your skin therapist will also use exclusive manipulations to create a body temperature that's more conducive for penetration of essential products ingredients into skin.

Exclusive blend of three warming ingredients
Our new Thermal Body Treatment professional treatment products include an exclusive blend of three Asian herbs, noted for their warming, antioxidant and soothing properties on skin:

Japanese Wasabi Root
the same root that is known as green Japanese horseradish (the must-have condiment to sushi), is a warming herb that has anti-inflammatory and anti-microbial properties along with a high Vitamin C content.

Tropical Asian Ginger
is another warming root extract that promotes circulation, acts as an anti-inflammatory for soothing the skin and scavenges free radicals while reducing edema.

White Tea Extract
an unfermented tea picked at the most tender stage of growth, is the richest source of antioxidants that has anti-inflammatory properties.


Dermalogica Body Treatment Price List

Body Foliation Therapy (30 mins) £36
Gentle, customised exfoliation that smoothes and brightens skin helps reduce the appearance of sun spots and hyper pigmentation.

Power Recovery Therapy (75 mins) £60
An intense wrap therapy dedicated to feeding skin with the nourishment it craves for optimal health. Good for dry, premature aging skin, sensitive and irritated skin.

Body Therapy Hydro Wrap (75 mins) £60
An aloe vera gel-based body pack that hydrates and nourishes while soothing and relaxing the body.

Nourishing Sea Mud Therapy (75 mins) £60
Cleansing and detoxifying treatment. Stimulate circulation while smoothing skin and promotes all over toning.

ChromaWhite Hand Treatment (20mins) - £29
This treatment address hyper pigmentation and signs of premature ageing on the hands. Its help to prevent discolouration and accelerate brightening, smooth fine dryness lines and defend against further assaults that trigger pigmentation.


Reasons to come for Dermalogica Body Treatments with me:

1. I'm practising from home. That is why I can offer high quality service at a very reasonable price. I don't have to pay extra to rent expensive shop on the high street. The saving is then pass on to you.

2. This is my own business. That is the motivation to provide high quality service compare to other employed beauty therapist. The commitment level is always different from somebody running their own business compare to somebody employed.

3. I'm a BABTAC and CIDESCO fully qualified beauty therapist. I'm a member of British Association of Beauty Therapy and Cosmetology Ltd (BABTAC). I'm trained to very high international standard in hygiene and treatment.

4. You will enjoy great health and beauty treatments at the comfort in my house in Wandsworth, London. (have a look at the specially design comfortable treatment room below)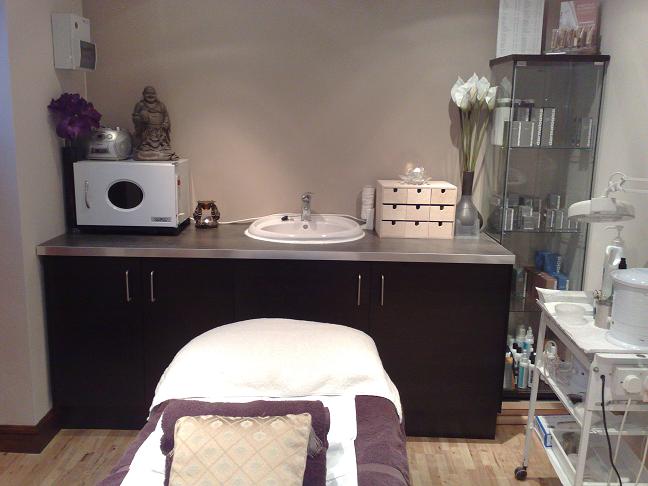 See what my clients say about the treatment :

Dear Mee
Foot massage was great.
Thanks
Gloria

A very relaxing 1/2 hour!
Kate

My just Thai Massage.....
It was great, I would definitely come back
Joey

Just wonderful, I feel relax, calm.
I'll be back.
Monica

Great massage - very relaxing but also felt like it got rid of lots of my knots!
Thanks
Gail

Brilliant massage.
I feel much more relax.
It is like taking weight of my body
Thank you
Couchi xx

Fantastic massage - thorough + professional.
Many thanks!
Lensey

Wonderful massage.
I feel so much looser!
Thank you!
Joanna

Fabulous massage.
A lot less knows now & feeling v.relaxed & much taller!!
Anna

Mee, you are a genius.
I feel so much better now.
Thank you!
Sue

No other words can describe it other than totally amazing.
Thank you + see you again.
Pat

Mee, that was fab.
I feel very refreshed!
See you soon for a full Thai massage!
Laura

Brilliant, those knots of mine are going!
Amazing technique, thank you!
Vicky xx

Call me now on 077 4823 7118 to book a Dermalogica Body Treatment appointment. I look forward to meeting you!


My house is located in Wandsworth Town and it is within 3 miles radius of Fulham, Chelsea, Kensington, South Kensington, Knightsbridge, Victoria, Pimlico, Battersea, Vauxhall, Clapham, Putney, Wimbledon, SW18, SW1, SW3, SW4, SW5, SW6, SW7, SW8, SW9, SW10, SW11, SW12, SW17, SW19.

I serve clients from North, South, East, West and Central London because my house is very well connected via Tube and Bus services. There are many buses pass by the area. Bus no 28, 37, 337, 39, 156, 87 just to name a few.

My house is surrounded by train and tube station. The nearest station to us is Wandsworth Town Station which is 5 to 10 minutes walk, Clapham Junction Station is about 15 to 20 minutes walk, Putney Tube station and Earlsfield Station.

Call 077 4823 7118 to book a body treatment. I look forward to meeting you!

Thank you for visiting my web-site.

Journey Planner
My home at SW18 2JU location on map



TOP OF PAGE

Back to Dermalogica Body Treatment Page

Return from Dermalogica Body Treatment Wandsworth page to Home Page